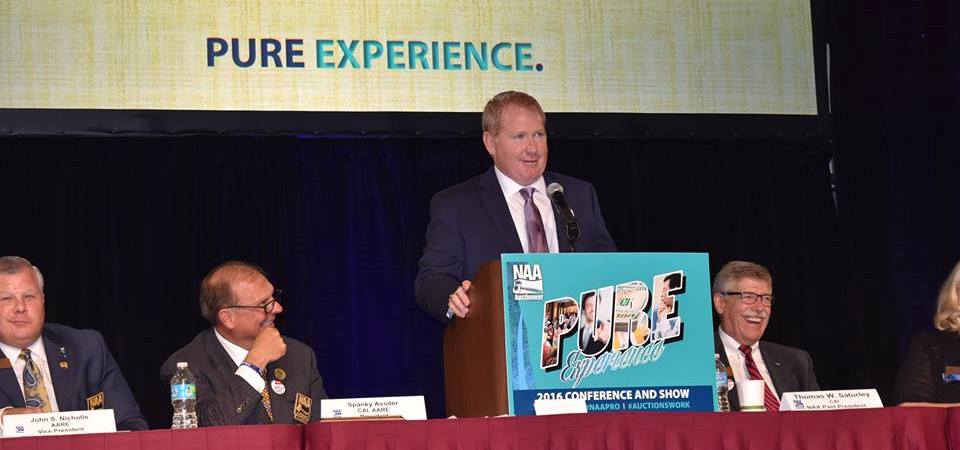 Harrisonville, Missouri, July 26, 2016 – Cass County resident, Jason Winter, CAI, AARE, CES, AMM, was elected to the National Auctioneers Association (NAA) Board of Directors at its 67th International Auctioneers Conference and Show held in Grand Rapids, Michigan July 19-23.
The NAA is the auction industry's largest trade association with more than 4,000 members. As director, Winter will help lead the organization for the next three years. He previously served as chairman of the NAA Education Institute Trustees from 2015-2016.
During his election speech, Winter referred to his fellow NAA members as family in contrast to guests or acquaintances. "The difference between family and guests is family has chores to do," said Winter. "I am looking forward to working with my NAA family to tackle the chores ahead."
In addition to his continued work as president of West Central Auction Company, Winter will lead strategic thinking and planning for the NAA and auction industry. This includes speaking engagements at state association conferences and professional education events.
For more than 20 years, West Central Auction Company has specialized in selling commercial, residential, agriculture and multi-parcel real estate at live and online auction. They also sell personal property, farm equipment, business property and more using the auction method of marketing. West Central Auction Company is a member of MarkNet Alliance, a network of international auction companies that conduct nearly 6,000 auctions and sell more than $1 billion in assets annually.